![if mso 9]> <![endif]>
<![if !vml]>

<![endif]>
EXCERSIONS
On Wednesday of the conference you will note that there is free time to explore the island of Skaftö and surrounding areas on your own. Here are some suggestions for excursions.
Ferry to Lysekil
Warf/Town Center Along the warf and in the town center you will find a number of shops, pubs and eateries. Good places to buy souvenirs, gifts, books or just relax with a cup of coffee.
Old Church/Lookout Tower If the weather is nice, we recommend a leisurely walk up to the old church and lookout that allows great views of Lysekil.
Släggö/ Stånge huvud For the more adventurous types, these two locations offer great hiking and pick nick locations on the granite rock formations. Great views of the sea and fantastic sunsets (weather permitting of course).
Havets Hus - This is a public aquarium that is worth a look. To find Havets Hus turn left as you leave the ferry and follow signs marked along the road.
Map of Lysekil
<![if !vml]>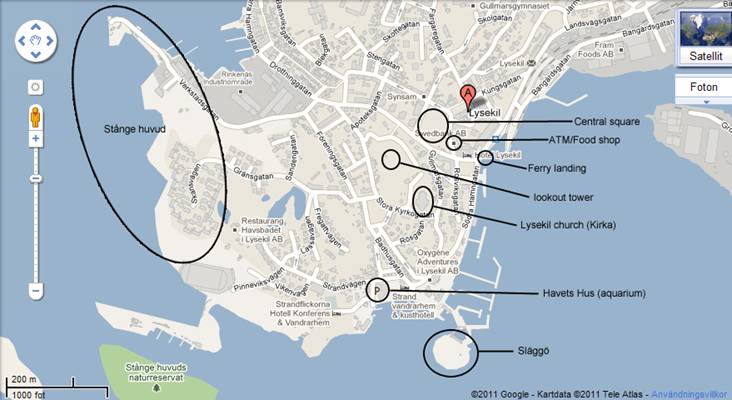 <![endif]>
Fiskebäckskil/Östersidan
The traditional houses of Fiskebäckskil and Östersidan give a sense of timelessness in these turn-of-the-century fishing villages. Take a short hike up to the windmill, navigate the cobblestone paths and find the oldest grave in the graveyard of the fisherman's church. The two main places to eat, the Brygghuset and the Gullmarstrand hotel are not open this afternoon. You can take a short walk over to sleepy Östersidan and visit Uppsala's marine station Klubban. On the road between the two towns are a few pizza cafes and Skäftöhallen, the local supermarket. Map of skaftö
Stokevik/Grundsund
Grundsund is a quaint old fishing village similar to Fiskebäckskil but on the southern end of Skäftö. You can take bus 845 in the direction toward Grundsund (closest bus stop is by the old church in Fiskebäckskil). There are some small shops and cafes but nothing fancy. There also is a well marked hiking trail originating from the upper fields on Kristinebergsvägen that lead all the way to Grundsund. It's a gentle loose-gravel path that winds its way through the small village Stokevik, past a cholera graveyard and on to Grundsund. The length of the path to Grundsund is 5km in one direction so you may want to do only part of it before turning around. If you brought some running shoes and feel strong, go for it! Map of skaftö
Hiking on Skaftö
There are extensive hiking trails that cover the island of Skaftö. Some trails are well marked and some are not. The notion of "private property" does not apply to most of Sweden and you are free to wander anywhere on the island but stay on paths and roads when in residential areas. There are maps available on the ferry and postings at trailheads. Some popular spots are Gåsevik, a small secluded bay that can be reached through a path in the lower fields (turn right by the red barn). Another less accessible but very nice hike is through the beech forest immediately south of the bridge to Skaftö. Take bus 845 in the direction of Uddevalla and get off at Lunnevik immediately before the bridge. There you can follow the signs for röd skogarna. If you follow the path all the way to the water, there is an old hand-drawn horse ferry. If you set out on your own, make sure you have some water and snacks and let someone know where you're going. Map of skaftö